Added to your basket
Sorry, there seems to have been an error. Please try again.
Order Subtotal ( items in your basket)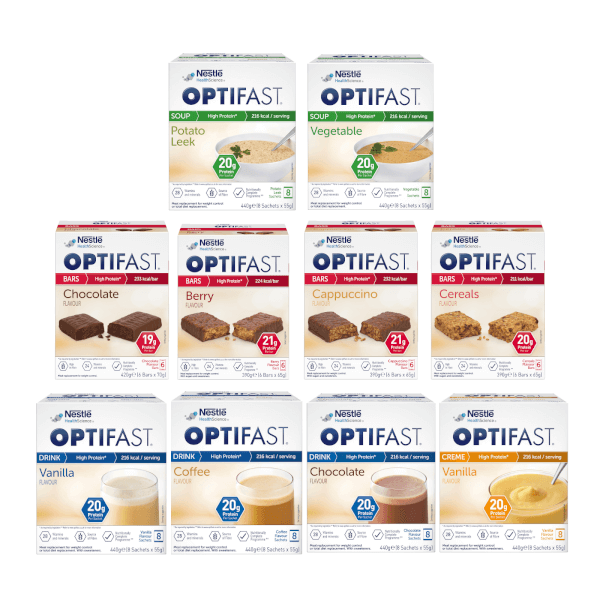 3 weeks Active Diet Plan
£1.99 per meal
GBP
175.0
RRP: £220.00
£175.00
Save: £45.00
In stock
-
Usually dispatched within 24 hours
Save 25% on your order this week!
Save 25% on your order this week only, even on diet plans! Discount will automatically apply at checkout.
Shop Now
Live Chat
Average connection time 25 secs
Average connection time 25 secs
The OPTIFAST six week diet plan is designed to help you lose significant amounts of weight. You replace all meals and snacks with four OPTIFAST products a day, for the first three weeks. These products are nutritionally complete and will ensure you receive all the necessary vitamins and minerals – containing a total of approximately 800 calories.
For the following three weeks, you can re-introduce convention foods into your diet, beginning with non-starchy vegetables and lean protein. This plan focuses on the consumption of nutritious whole foods and minimal carbohydrates, as opposed to typical processed food products.
As the plan progresses, you will transition from 800, to 1400, to eventually 1700 calories per day. Once the six week plan is complete, you will transition on to the long-term Maintenance Plan, where you adopt a Mediterranean-inspired diet.
For more information, view our Diet Plans page.
Your plan contains:
88 bestselling meal replacements:
8 x Vanilla Shake
16 x Chocolate Shake
16 x Coffee Shake
6 x Cappuccino Meal Bar
6 x Chocolate Meal Bar
6 x Berry Meal Bar
6 x Cereal Meal Bar
8 x Vegetable Soup
8 x Leek & Potato Soup
8 x Vanilla Dessert
For product specific information, including ingredients, allergens and nutritional information, please refer to the individual product pages.
You choose up to four meal replacements per day at the beginning of the plan, amounting to around 800 calories. As you progress through the diet plan, your total daily calories will increase to between 1,400 to 1,700.
Customer Reviews
Earn Up To £10 Credit on Your Account
There are currently no reviews.
Write a review of your order and you will receive £5 credit in your account for your first review & up to £10 for two or more reviews.
Zoom