Added to your basket
Sorry, there seems to have been an error. Please try again.
Order Subtotal ( items in your basket)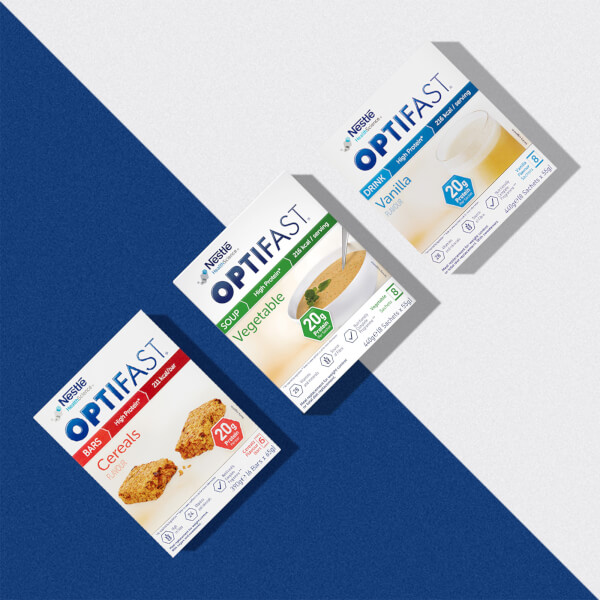 Full 6 Week Diet Plan
£2.15 per meal
GBP
244.0
RRP: £349.00
£244.00
Save: £105.00
In stock
-
Usually dispatched within 24 hours
Live Chat
Average connection time 25 secs
Average connection time 25 secs
Our Six-Week Plan was developed for people who want to lose weight on their own, using a clear framework.
Centred around scientifically designed OPTIFAST products, our Six-Week Plan combines nutritional knowledge and exercise tips with behavioural strategies that can fit easily into your lifestyle.
For more information, view our Diet Plans page.
Your plan contains:
This plan contains 140 meal replacements in 19 boxes.
16 x Vanilla Shake
16 x Chocolate Shake
16 x Coffee Shake
24 x Strawberry Shake
12 x Cappuccino Meal Bar
12 x Chocolate Meal Bar
12 x Cereal Meal Bar
16 x Vegetable Soup
16 x Vanilla Dessert
For product specific information, including ingredients, allergens and nutritional information, please refer to the individual product pages.
First 3 Weeks - Replacing all daily meals
Enjoy 4 meal replacements per day as your sole food consumption.
Last 3 weeks - Reintroducing conventional meals
1 low-calorie cooked-meal (start with non-starchy vegetables and lean protein) + 3 Optifast meal replacements per day
2 low-calorie cooked meals + 2 Optifast meal replacements per day
Customer Reviews
Earn Up To £10 Credit on Your Account
Overall Rating : 3.5 / 5 (2 Reviews)
Top Customer Reviews
Where reviews refer to foods or cosmetic products, results may vary from person to person. Customer reviews are independent and do not represent the views of OPTIFAST.
Lacking in savoury flavours
The concept is good but the flavours are really hit and miss. The chocolate and Vanilla drinks are very good if mixed with Cold water (refrigerator cold) it's like having a nesquik drink. The Coffee is ok and the cereal bars do the trick. HoweverThe soups are terrible I have had 5 soups mixed with warm water and the thought of them makes.me feel nauseous. Their is a lack of savoury flavours like Chicken or Tomato in this set which makes the 6 week plan mentally Challenging as I find myself looking for a savoury option.
Gives you energy but balance between products is not the best
I was surprised to realise that I had all the energy I needed to get on with my day + do easy exercise. The first 4 days I had headaches but, as described in the manual - they disappeared in the 5th day. Apparently it's a side effect of Ketosis. I was not hungry. These products fill you, especially the desserts (mine was vanilla cream). My problem was that most of the products were sweet. I would have preferred to have a savoury meal once a day. In the deal pack there were few soups (which is the only savoury option) so in the second week almost all the meals were sweet. A big plus is that you don't cook so you don't have to clean as much. No dirty plates, pots and pans. apart from the shakes/soups/bars/desserts you need to eat 2 cups of vegetables a day. That was really nice to actually chew on something! My husband and I did this together and he absolutely hates vegetables, but he liked parsnip and carrot chips, also baked cauliflower (no cheese, just some oil spray and let it get crunchy). We did it for two weeks and are going to do another two weeks in a few days. At least for us it was good and we lost a lot of weight, but we couldn't face more than two weeks in a row so we took two weeks off and followed a normal diet. Generally speaking it's a very good diet if you want to lose weight fast. I would recommend it.
Zoom