When you're following a weight loss plan, it can be hard to know how to navigate your social life, especially when it comes to eating out.
However, here are a few tricks and tips so you can still enjoy meeting friends and eating out, even on a weight loss plan. After all, you don't want to miss out on an opportunity to have food cooked for you!
Plus, it's important that you continue socialising with family and friends and be surrounded by loved ones who can help support you while on your weight loss journey.
Discover our six top tips to eating out while following an OPTIFAST weight loss plan.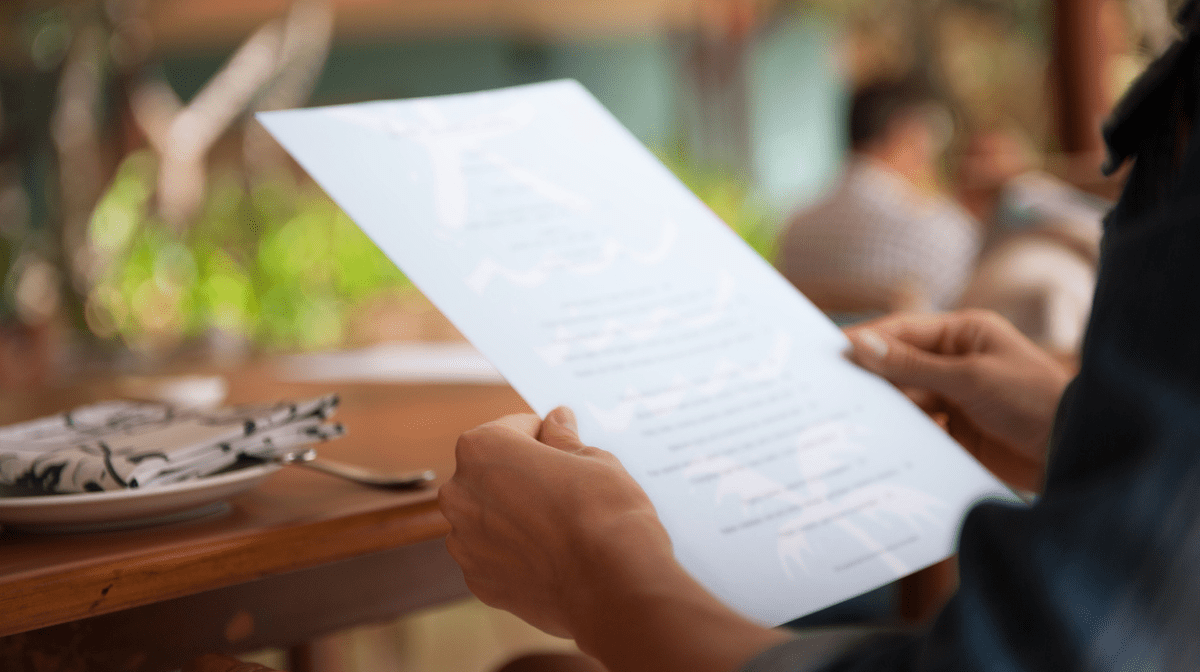 Top 6 Ways to Manage Eating Out on a Weight Loss Plan
1. Study the Menu Before You Go
Most restaurants list their menus online making it easy for you to have a browse and figure out what you will eat before you even set foot in the door! You can also try to find out the nutritional information for each dish, which is often readily available for those who have allergies or follow specific dietary requirements. You'll find this nutritional information to be really useful in helping you navigate eating out when on a weight loss diet plan.
Also try to look for dishes that are low in calories and provide plenty of colour on your plate. If a dish contains vegetables in all the colours of the rainbow, it's likely to be a great, healthy option.
Another great tip for eating out is to order a few different starters or small plates instead of one large main, to help you enjoy a bit of variety in your meals.
2. Don't Starve Yourself
It can be tempting to reduce what you eat during the day if you're planning on eating out for dinner. However, to avoid overindulging we suggest that you eat your usual OPTIFAST products during the day and keep note of how many calories you have left to consume when eating out.
If you're following an OPTIFAST diet plan, you can still enjoy conventional meals in conjunction with your OPTIFAST meal replacement products.
3. Portion Control
We know that it may be difficult to find dishes on the menu that are around 200-400 calories. To help you stay on track with your weight loss plan, remember that you don't have to eat everything that is served on your plate.
Also, try to order dishes that have a lean protein and mostly non-starchy vegetables for a filling meal that will provide you with plenty of protein as well as fibre. You can even consider asking the waiter for half-sized portions or ask to share a dish with a friend to help you stay in control of your portion sizes.
Alternatively, another diet tip for eating out is to ask for a small plate along with your meal, to allow you to dish up your own portion. You can then ask for the leftovers to be packed up as a takeaway.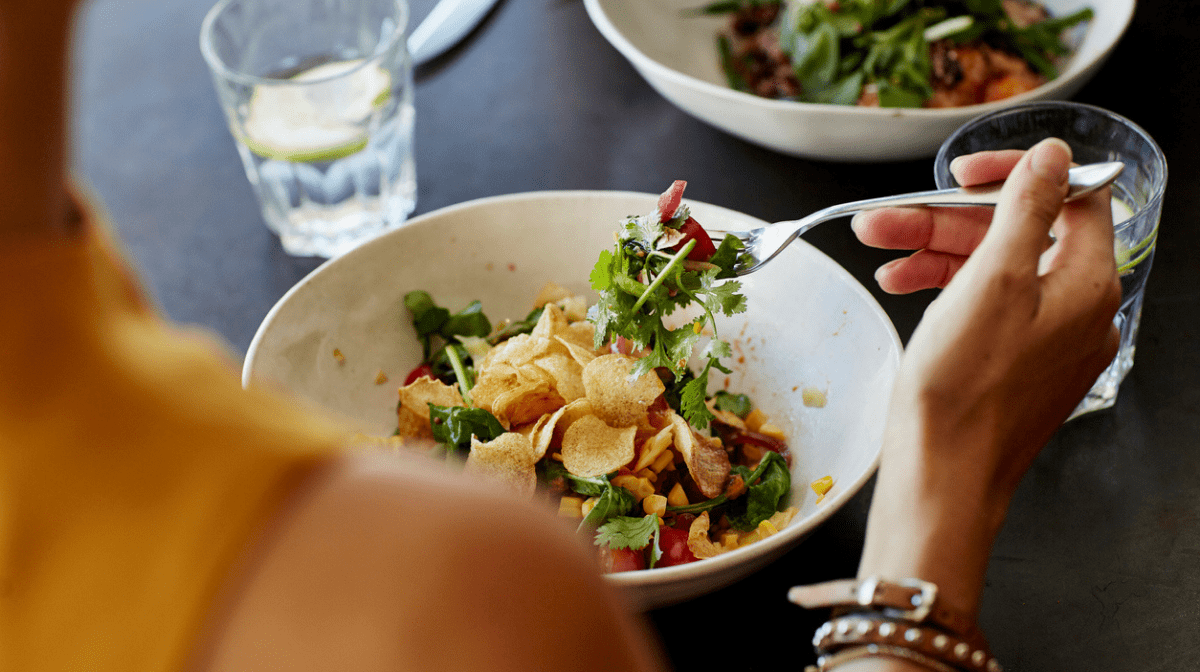 4. Keep Sauces and Dressings on the Side
If you're ordering a salad when eating out on a diet, be careful of any added dressings or sauces. Some dressings are packed with unhealthy fats, oils, salt and sugar. It's worth asking for all sauces or dressings to be served on the side, so that you can control how much is added to your food.
5. Drink Water Before and During Your Meal
Drink water before you go out for a meal, as it helps you to feel full and reduces the temptation to order unhealthy options on the menu. When you are at the restaurant, continue to drink water during and after your meal to keep your body hydrated.
If you don't like the taste of water, simply add some lemon, cucumber or fresh mint leaves and turn it into a refreshing and flavoursome drink. For those wondering whether you can drink alternatives such as fizzy drinks or fruit juices when eating out on a diet, read our guide to drinking on an OPTIFAST diet below.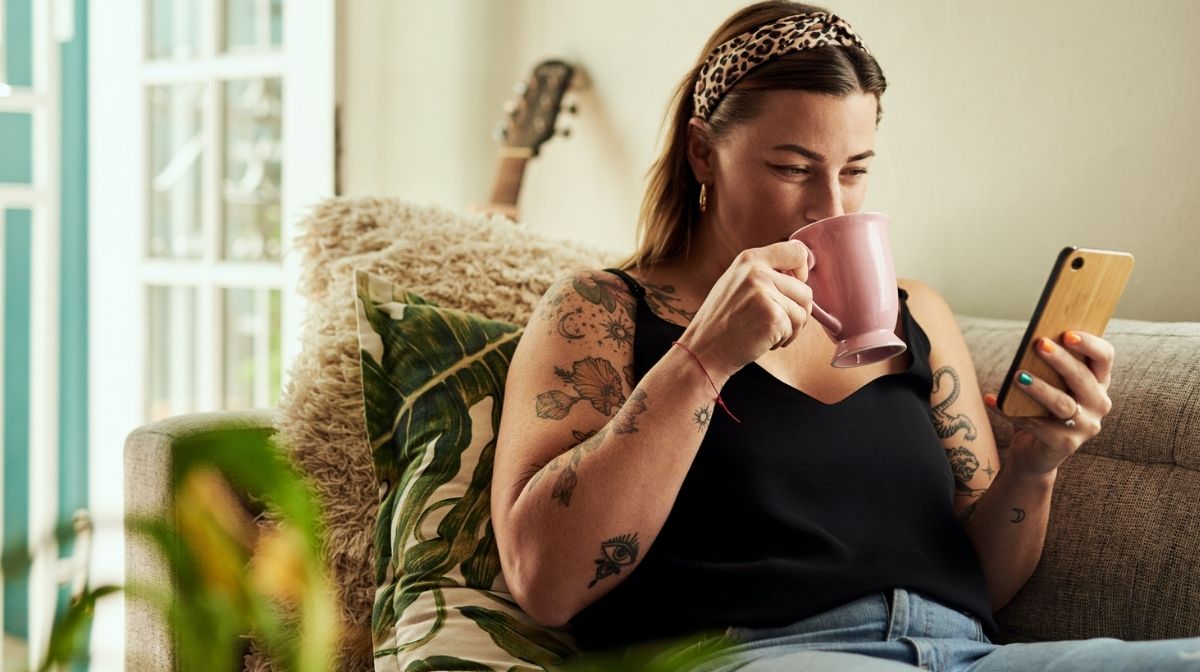 Find out everything you need to know about what you can drink on an OPTIFAST weight loss plan.
6. Take OPTIFAST Bars with You
Our OPTIFAST Bars are a great option to take with you for when you are on the go or for those last-minute plans. Be sure to keep some of our low-calorie meal replacement bars in your bag, as one bar is an effective substitute for any meal.
Our OPTIFAST bars are available in five delicious flavours, including Cereal, Chocolate, Cappuccino, Berry and Almond, Date & Honey. Each bar contains around 224 calories and provides you with the essential vitamins, minerals and nutrients your body needs to be healthy.