A tabbouleh salad is light, summery and bursting with flavour. This popular mezze dish is traditionally made with bulgur wheat, although some variations use couscous instead. Our version is made using cauliflower in place of other grains, creating a tasty, low-carb alternative.
This dish works well as a side, served with lean meat or fish; alternatively, it's a delicious lunch or light meal by itself.
If you're following one of our Partial Meal Replacement Plans, our cauliflower tabbouleh salad is a gorgeous dish to add to your repertoire.
Low-Calorie Cauliflower Tabbouleh Salad Recipe
Servings

1 serving - 1 cup
Ingredients
1 head of cauliflower, cut in half with core removed, then grated
1/2 cucumber, diced
8 tomatoes, halved, deseeded and diced
1 spring onion, finely chopped
Handful of parsley
Handful of mint leaves
Handful of chives
2 tbsp olive oil
Juice of 1 lemon
3 garlic cloves, peeled and crushed
Pinch of salt
Pinch of ground black pepper
Method
To make the dressing, in a small bowl, whisk together the olive oil, lemon juice and garlic. Add salt and pepper to taste, then set aside.

To make the salad, wash the cauliflower, separate into halves and remove the core. Grate the cauliflower halves into small chunks, and place these in a large bowl.

Add the diced tomatoes and cucumber to the grated cauliflower and lightly stir.

Lastly, add the herbs and dressing to the cauliflower mix and stir thoroughly until mixed.

Serve and enjoy!
Nutritional Facts
Amount per serving
| | |
| --- | --- |
| Calories | 87 |
| Total Fat | 4.4g |
| Saturated Fat | 0.6g |
| Polyunsaturated Fat | 0.5g |
| Monounsaturated Fat | 3g |
| Sodium | 407mg |
| Total Carbohydrates | 6.1g |
| Dietary Fiber | 3.2g |
| Protein | 2.6g |
Explore more delicious salad inspiration: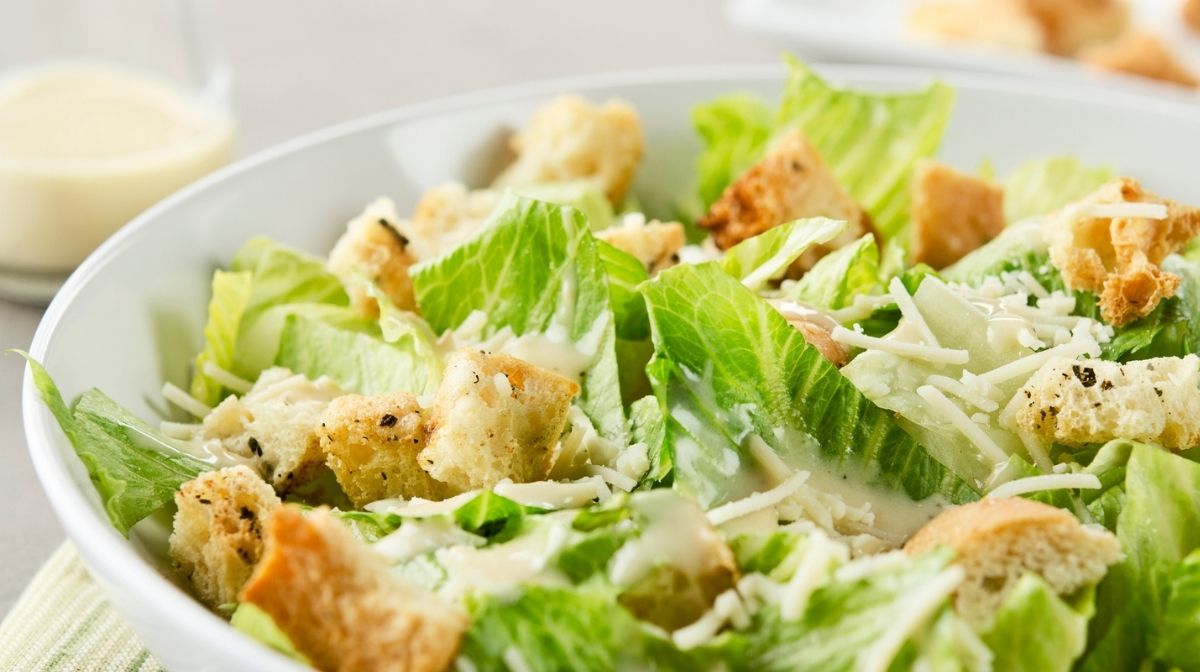 Find out how to make the ultimate chicken Caesar salad.