When you're following an OPTIFAST weight loss plan, it's recommended that you eat either OPTIFAST meal replacement products or conventional food-based meals that are centred around lean protein and non-starchy vegetables to keep the calories and carbohydrates low.
This means for dishes like risottos, which are usually based around carb-heavy rice, you need to take extra care. However, if you want to enjoy rice-based dishes, an alternative is to use cauliflower rice in place of regular rice. This will significantly lower the calorie count while providing extra fibre and nutrients from the delicious fresh vegetables.
Cauliflower rice is easy to make; simply place cauliflower florets into a food processor and finely chop until you have rice-like, grain-sized pieces. Now they can be used as an alternative to any rice-based dish, such as a stir-fry or pilaf to accompany a curry or can take centre stage in a recipe like this lemon cauliflower rice risotto.
The fresh lemon zest and juice add a burst of summer flavour to the dish along with the fresh chives. There's also the option to add nutritional yeast, which is often used in vegan recipes to add a cheese-like flavour.
Try this low-calorie vegan recipe for yourself!
Low-Calorie Lemon Cauliflower Rice Risotto Recipe
Servings

4
Ingredients
1 white onion, peeled and diced
1 head of cauliflower, washed and cut into florets
2 garlic cloves, peeled and crushed
1 tbsp olive oil
235 ml vegetable stock
1 lemon (zest and juice)
1 red pepper, washed, deseeded and finely sliced
1 tbsp almond butter
60 g spinach leaves, washed
Sprinkle of fresh chives
2 tbsp nutritional yeast (optional)
Method
Wash the cauliflower head, spinach, and red pepper. Cut the cauliflower into florets; deseed and finely dice the red pepper, and use a kitchen towel to blot any excess water from the spinach.

Next, peel and dice the onion and mince the garlic and then put all the ingredients to one side.

In a food processor, blend the cauliflower florets until finely chopped to make your cauliflower rice.

Place a frying pan over a medium heat, add the olive oil and sauté the onion and garlic until translucent, but be careful not to burn the garlic.

Add the red pepper, spinach, vegetable stock, lemon zest, lemon juice, almond butter and cauliflower rice to the pan. Cook for 3 minutes, stirring occasionally until the cauliflower is al dente.

Remove the pan from the heat, divide the risotto into four bowls and sprinkle with the chopped fresh chives and nutritional yeast.
Nutritional Information
Amount per serving
| | |
| --- | --- |
| Calories | 107 |
| Total Fat | 3.89g |
| Saturated Fat | 0.62g |
| Sodium | 320mg |
| Total Carbohydrates | 7.38g |
| Fibre | 7.03g |
| Sugar | 6.61g |
| Protein | 7.3g |
Allergens: contains almonds (nuts), celery (vegetable stock). Note that the vegetable stock ingredients may vary.
Can't get enough of cauliflower? Try this warming OPTIFAST Cauliflower Soup recipe: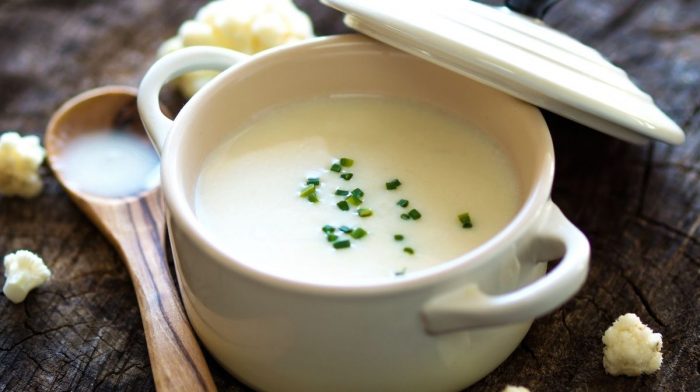 With a few small tweaks, you can turn an OPTIFAST Vegetable Soup sachet into this tasty cauliflower soup.