Calorie Count: 400
Prep time: 10 minutes
Cook time: 10 minutes
Whether you're on our Partial Meal Replacement Plan or our Maintenance Plan, it's important to eat food that is both tasty and nutritious. We want you to be eating food that you enjoy, and that not only fits into your daily energy allowance, but that keeps you satisfied until your next meal. 
Singapore noodles are a delicious and easy recipe, packed full of flavour. We've made some adjustments to the classic dish to make this a low-calorie option, ensuring that it fits into your macros and personal diet plan. 
Low-Calorie Singapore Noodles Recipe
Servings

1
Prep Time

10 minutes
Cook Time

10 minutes
Ingredients
150 g thin rice noodles
1 tbsp light soy sauce
1 tbsp mild curry powder
1 tbsp sesame oil
1 garlic clove, peeled and finely chopped
1/2 thinly sliced red chilli (with seeds removed if you don't like it too spicy)
1 tbsp fresh ginger, grated
1 onion, peeled and sliced
1 red pepper, washed and sliced
2 spring onions, washed and finely chopped
4 raw king prawns
1 small egg, beaten
Method
Place the rice noodles in a saucepan with warm water and allow to soak for 5 minutes until they become softened but not completely soft. You'll appreciate them being a little crunchy when you come to eat them. Drain and set aside.

In a small mixing bowl, whisk together the soy sauce and curry powder.

In a large wok, add the sesame oil and fry the garlic, chilli and ginger until slightly golden. This should take about 2 minutes.

Add the onion, pepper, spring onions, prawns and noodles and stir-fry for around 4 minutes.

Add in the beaten egg and scramble.

Pour the soy sauce mixture into the wok, stir for a further 3 minutes and then remove from the heat and serve.
Nutritional Facts
Amount per serving
Allergens: contains soy, egg, prawns (crustaceans), sesame.
Find more healthy stir fry inspiration here: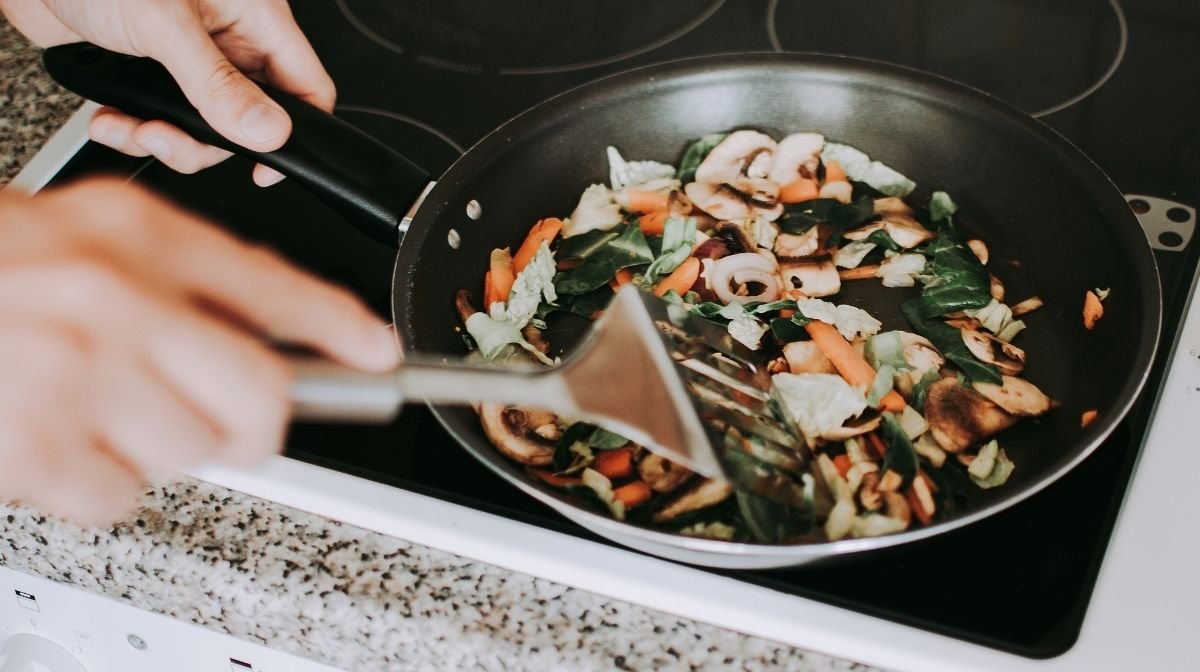 This simple low-calorie stir fry recipe is packed with vibrant vegetables.