Hot pot is traditionally made with lamb, or sometimes beef, but these can both be quite fatty meats. Instead, try adding tuna and turn this into a light and lower-calorie recipe, creating a unique but incredibly tasty twist on a classic family meal.
To add a little kick to your hot pot, you can add a dash of cayenne pepper, and you can also add any dried or fresh herbs from your pantry to make this recipe your own.
Low-Calorie Tuna Hot Pot Recipe
Servings

4
Ingredients
3 medium tomatoes, washed and sliced
440 g can of tuna in brine, drained and divided into flakes
3 medium potatoes, boiled and sliced
1 tbsp plain flour
1 pinch cayenne pepper
250 ml skimmed milk
60 g reduced fat cheese, grated
Method
Preheat the oven to 200ºC and lightly grease a large casserole dish using low-calorie cooking oil spray.

Place half of the sliced tomatoes on the bottom of the dish, then evenly cover with half of the drained tuna flakes.

Using the remaining sliced tomatoes and tuna, add another layer, followed by the slices of cooked potato.

Meanwhile, you can make your white sauce. Start by melting the remaining margarine in a saucepan over a medium-high heat. Stir in the flour and cayenne pepper to form a smooth paste, taking care not to let it burn.

Turn down to a low heat. Using a whisk, slowly stir in the milk until you have a thick, smooth mixture, being careful not to scald it.

Stir in the grated cheese, then remove the sauce from the heat.

Pour the sauce over the potatoes, then bake for 20 minutes or until the potatoes are golden brown.
Nutritional Facts
Amount per serving
| | |
| --- | --- |
| Calories | 310 |
| Total Fat | 9.3g |
| Saturated Fat | 3.8g |
| Total Carbohydrates | 19.6g |
| Dietary Fiber | 3.26g |
| Sugar | 573.8g |
| Protein | 34.7g |
Allergens: contains wheat, fish, milk.
Discover tips for maintaining your weight loss long term here: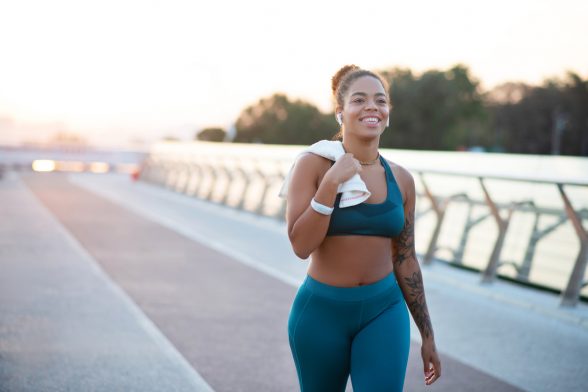 Explore how to maintain weight loss over the long term with these top tips.