Bolognese is a perfect hearty, comforting meal that's ideal for when autumn starts to set in; warming, filling and a firm family favourite, spaghetti bolognese is a teatime classic.
Our twist on a spaghetti bolognese uses low-carb noodles instead of traditional pasta for a healthier alternative that will support you on your weight loss Maintenance Plan.
It's also meat-free (although there is a little bit of beef stock to add that rich meaty taste, but you could swap this out for vegetable stock if you prefer), making it even lower in calories.
This delicious veggie bolognese is a great batch-cooking option too. Here's how to make it:
Low-Calorie Veggie Bolognese Recipe
Servings

1 serving = 1 cup
Ingredients
2 medium carrots, peeled and diced
1 onion, diced or chopped
2 sticks of celery, diced
2 garlic cloves, peeled and crushed
1 red pepper, chopped
2 x 400 g tins of chopped tomatoes
Artificial sweetener to taste
1 tsp olive oil
240 ml hot beef stock
Freshly chopped parsley
Zest of 1 lemon
Pinch of salt
Freshly ground black pepper
2 packets Konjac noodles (also known as shirataki noodles)
Method
Dice the carrot, onion and celery.

Heat the olive oil in a saucepan over a medium heat. Add the carrots, onions and celery. Sauté for 5 minutes, stirring occasionally, until the onions are soft and translucent. Add the crushed garlic and red pepper.

Add a few spoons of the beef stock to the pan, leaving the veg to cook in the liquid for a few minutes.

Pour in the rest of the stock and the chopped tomatoes, and leave to simmer for 20 minutes.

For a smooth sauce, remove from the heat and blend with a hand blender, and strain through a colander.

Season and sweeten to taste.

Cook the noodles according to the packet instructions, then pour over the bolognese sauce.

Garnish with the lemon zest and chopped parsley.
Nutritional Facts
Amount per serving
| | |
| --- | --- |
| Calories | 116 |
| Total Fat | 1.9g |
| Saturated Fat | 0.3g |
| Polyunsaturated Fat | 0.3g |
| Monounsaturated Fat | 1.1g |
| Sodium | 846mg |
| Total Carbohydrates | 15g |
| Sugar | 1 (added sugars)g |
| Protein | 4.4g |
Allergens: contains celery. Beef stock ingredients vary, may contain wheat.
Discover more low-calorie dinner ideas: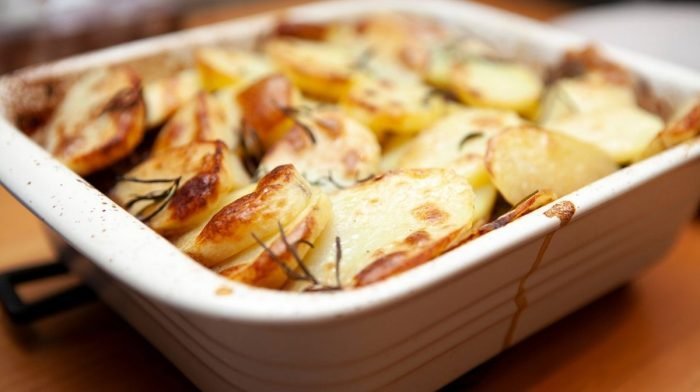 Hot pot gets a makeover in this low-calorie recipe.