Ratatouille can be a delicious side dish or even a light meal on its own. This vegetable-packed Italian favourite is a great low-calorie dish to prepare when you're following one of our Intermittent Fasting, Partial Meal Replacement or Maintenance Plans and able to enjoy meals made with conventional foods.
Seasonings are so important when you're following a weight loss plan because they help to keep your meals tasty and interesting. This recipe features fresh oregano and basil, which bring the flavours of Italy to your meal and fill your home with a delicious aroma while it's cooking.
Low-Calorie Aubergine & Mushroom Ratatouille Recipe
Servings

2
Ingredients
1 tsp olive oil
1 medium-sized onion, peeled and thinly sliced
2 garlic cloves, peeled and crushed
1 medium-sized aubergine, washed, halved and cut into 1-inch cubes
1 medium-sized courgette, washed and sliced into rounds
400 g tin of chopped tomatoes
200 g mushrooms, washed and sliced
1 red pepper, washed, deseeded and cut into 1-inch strips
1 tsp fresh or dried oregano
1 tsp fresh or dried basil
Method
Peel and dice the onion, peel and crush the garlic, then wash and slice the aubergine, courgette, mushrooms and red pepper. Leave to one side.

In a large frying pan over a medium/high heat, heat the olive oil.

Add the onion to the pan and sauté for around 2-3 minutes or until soft. Add the garlic and cook for another minute. If needed, add a little water to the pan to keep the onion and garlic from burning.

Reduce the heat to low and add the aubergine, courgette, mushrooms, red pepper and chopped tomatoes, along with the oregano and basil.

Stir the mixture to combine, cover, and leave to simmer for approximately 1 hour or until the vegetables are tender, stirring occasionally.

Divide into two portions and serve warm.
Nutritional Facts
Amount per serving
| | |
| --- | --- |
| Calories | 113 |
| Total Fat | 3.5g |
| Saturated Fat | 0.48g |
| Sodium | 110mg |
| Total Carbohydrates | 10g |
| Dietary Fiber | 8g |
| Sugar | 8.93g |
| Protein | 6.2g |
Discover more low-calorie dinner inspiration: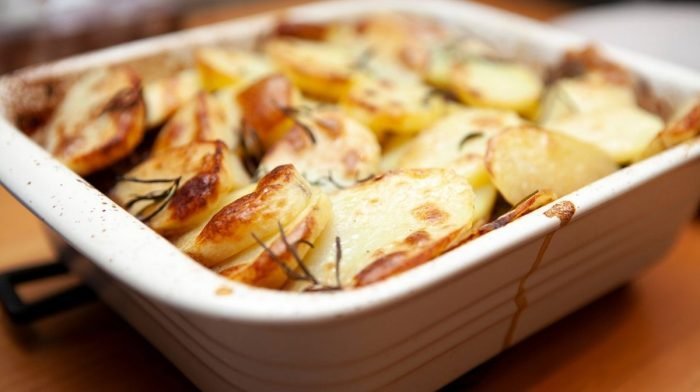 Hot pot gets a makeover in this low-calorie recipe.