A stir-fry is one of the easiest low-calorie recipes to rustle up. It only takes a few minutes to prepare your vegetables and a few more to stir-fry them to perfection. To keep the calories low and flavour high, this recipe uses Konjac noodles, which can be found in most Chinese supermarkets and many world food aisles. Also, if you have extra veggies in your fridge drawer that need using, you can add them into the recipe too, but remember this will change the total calorie count.
Low-Calorie Vegetable Stir-Fry Recipe
Servings

6
Ingredients
1 pak choi, sliced into quarters
1 onion, peeled and diced
1 stick of celery, diced
1 leek, washed well, sliced into rounds
1 carrot, peeled and sliced into 1/2 inch sticks
1 red pepper, deseeded and sliced into 1/2 inch sticks
1 yellow pepper, deseeded and sliced into 1/2 inch sticks
1/2 white cabbage, washed and roughly chopped
Handful of asparagus sticks, washed and cut into 1/2 inch pieces
1 summer squash, peeled and sliced into 1/2 inch sticks
100 g button mushrooms, washed and sliced
100 g green beans, chopped
100 g snow peas, washed
100 ml chicken stock, made using a stock cube and boiling water
1 packet Konjac noodles, rinsed
1 red chilli, deseeded and chopped
1 garlic clove, peeled and crushed
1 thumb-sized piece of fresh ginger, grated
Soy sauce to taste
50 ml sesame oil
Handful of fresh coriander, finely chopped
Spritz of cooking oil spray
Method
Start by washing and slicing the pak choi into four even pieces, and place them in a griddle pan lightly coated with non-stick spray over a medium-high heat. Cook for 3-5 minutes on each side, until griddle lines begin to appear. Remove from the heat and set aside.

Next, prepare your vegetables; dice the onion and celery into small pieces, wash and slice the leeks, and deseed and finely chop the red chilli.

Peel and crush the garlic, then, with the grated ginger, add to a non-stick pan that's been spritzed with cooking spray. Heat for 30 seconds, then add along with the diced onion, celery, leeks and red chilli.

Sauté over a medium heat for 5-7 minutes, stirring occasionally.

Meanwhile, slice the carrots and peppers, slice the mushrooms and chop the squash, cabbage, asparagus and griddled pak choi into evenly sized sticks.

Add the carrots, green beans and leeks to the non-stick pan along with a little chicken stock to soften the leeks – add more stock as needed to avoid burning.

Next, add the peppers and pak choi, and stir fry for an additional 5-7 minutes, until the peppers and pak choi begin to soften.

Then, add the squash, mushrooms and other remaining vegetables (except for the bean sprouts) and stir fry for 5-7 minutes, or until the vegetables are cooked through.

Rinse the Konjac noodles and add to the pan of vegetables.

Lastly, add the bean sprouts and cook for 30-60 seconds, then remove from the heat and add the soy sauce taste to the stir-fry.

Plate up the stir-fry, sprinkle over 1tsp of sesame oil per serving, and garnish with fresh coriander.
Nutritional Facts
Amount per serving
| | |
| --- | --- |
| Calories | 82 |
| Total Fat | 0.6g |
| Saturated Fat | 0.1g |
| Polyunsaturated Fat | 0.3g |
| Monounsaturated Fat | 0.1g |
| Sodium | 591mg |
| Total Carbohydrates | 9.9g |
| Dietary Fiber | 4.3g |
| Protein | 4.8g |
Allergens: contains celery, soy, sesame. Chicken stock ingredients vary, may contain mustard.
There are several delicious stir fry ideas in our low-calorie recipe collection, including this one with asparagus and tomatoes: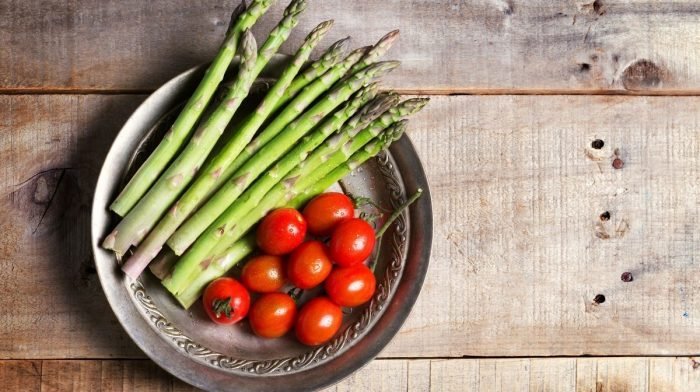 Try this delicious, easy-to-make, low-calorie stir fry recipe.