Stir fries are a great low-calorie meal option and an ideal way to pack lots of vegetables into one dish.
This stir fry recipe features asparagus, tomatoes, mushrooms and spring onions, and is full of flavour and texture, with a delicious yet simple sauce made using lemon juice and soy sauce.
Quick and easy to make, this tasty stir fry is a great way to rustle up a light lunch if you're following our Intermittent Fasting or Partial Meal Replacement Plan.
Low-Calorie Asparagus & Tomato Stir Fry
Servings

2
Ingredients
1 tsp sesame oil
500 g asparagus, washed and cut diagonally into 3cm pieces
4 spring onions, washed and sliced diagonally into 2cm pieces
150 g tinned mushrooms, drained
2 cherry tomatoes, washed and sliced
1/2 tsp lemon zest
1 tbsp soy sauce
2 tsp lemon juice
Method
Wash and slice the asparagus, spring onions and cherry tomatoes, and drain the tinned mushrooms. Set aside.

Heat the sesame oil in a large saucepan over a medium-high heat. Add the asparagus and spring onions and cook for 3-4 minutes or until lightly browned, stirring occasionally to avoid burning.

Add the drained mushrooms to the pan and cook for 1-2 minutes until the mushrooms are heated through.

Lastly, stir in the tomatoes, lemon zest, soy sauce and lemon juice and cook for another 1-2 minutes or until everything is cooked through.

Remove the pan from the heat, divide into two portions and serve.
Nutritional Facts
Amount per serving
| | |
| --- | --- |
| Calories | 125 |
| Total Fat | 3.11g |
| Saturated Fat | 0.42g |
| Sodium | 931mg |
| Total Carbohydrates | 8.6g |
| Dietary Fiber | 10.5g |
| Sugar | 8.4g |
| Protein | 10g |
Allergens: contains sesame, soy.
Discover more low-calorie vegetable dishes in our extensive recipe collection: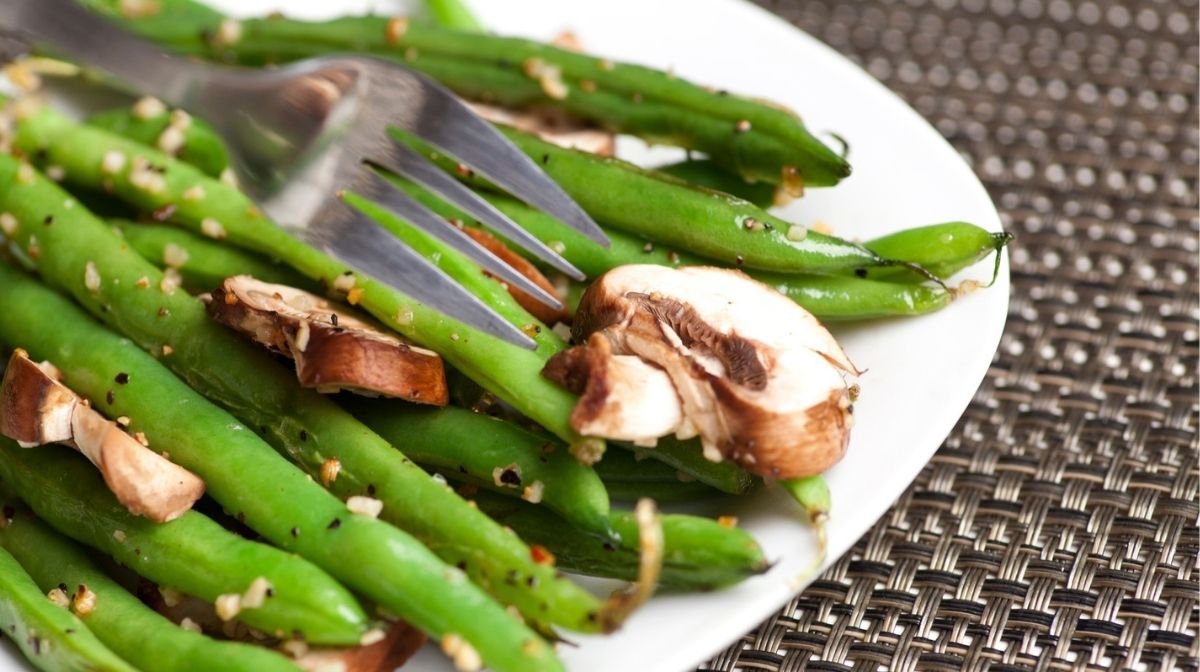 This low-calorie vegetable side dish recipe is perfect for lovers of garlic.