Barbecues can be tricky to navigate when you're following a weight loss plan. However, you can still enjoy the summer social season by factoring in the extra calories ahead of time.
Here are a few healthy swap ideas that will keep you on track to your weight loss goals and still allow you to have fun and enjoy summer socialising. For example:
Go for a 'naked' burger – a meat or veggie patty without a bun. By doing this, you'll still get plenty of protein, just without all the carbs from the bun.
BYOM – bring your own lean meat or sausages. This way, you'll know there'll be something you can eat.
Adjust what you drink – check out our guidance on what to drink when you're following an OPTIFAST plan.
Be mindful of side dishes – avoid loading up on too many sides like creamy potato salad or pasta salad. Instead, try to stick to a fresh green salad.
Another option is to take along a side dish or appetiser that you can eat and share with others, such as this fresh tomato salsa recipe. It's an easy recipe to throw together and is simply made using fresh vegetables and seasoning.
Low-Calorie Tomato Salsa Recipe
Servings

2
Ingredients
2 medium tomatoes, washed and finely diced
1 small red onion, peeled and diced
3 spring onions, washed with ends removed and finely chopped
1 garlic clove, peeled and minced
1/2 dried red chilli, finely chopped (be careful not to touch your eyes after chopping)
3 tbsp fresh coriander, finely chopped
3 tbsp fresh lime juice
Method
Peel the onion and garlic; wash the tomatoes and spring onions. Finely chop the tomatoes, onion, coriander and red chilli. Remove the ends from the spring onions and finely chop.

Add all of the prepared ingredients to a large mixing bowl and gently stir together. Add in the freshly squeezed lime juice and stir again until all the ingredients are well combined.

Divide into two portions and serve immediately or place in the fridge in a tightly sealed container for up to 3 days.
Find more low-calorie BBQ side dish inspiration here: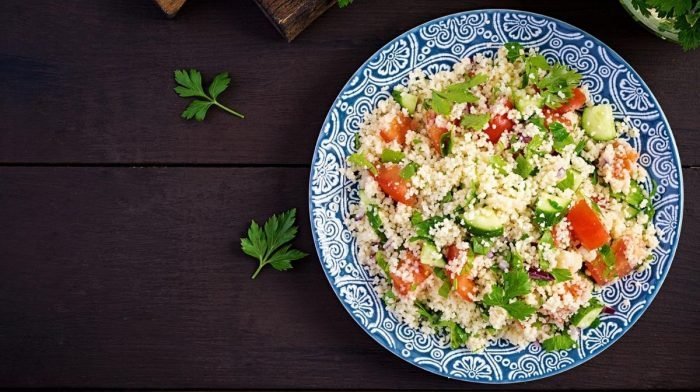 Try this tasty low-calorie recipe for an impressive cauliflower tabbouleh salad.