Pizza doesn't have to be off the menu when you're following our Intermittent Fasting or Partial Meal Replacement Plan. If you plan ahead, you can make your own pizza using a low-calorie pitta bread as the base and top it with fresh vegetables and lean protein.
If you're craving pizza, you now have a quick and easy recipe you can use to make a mouth-watering, delicious pizza that fits into your diet plan – if you want to use different veg or other toppings on your pizza, just make sure you factor these into your calorie count for the day.
Ingredients:
1 wholemeal pitta
1 tbsp passata
1 slice of cooked turkey, shredded
1 medium-sized mushroom, washed and sliced
1 small tomato, washed and sliced into 4 rounds
¼ onion, peeled and sliced
30g reduced fat cheese
Allergens: contains wheat, milk.
Method:
Preheat the oven to 180°C.
While the oven is preheating, prepare your toppings. Peel and slice the onion, tomato and mushrooms, shred the turkey and grate the cheese.
To prepare your pizza, place your pitta bread on a baking tray and top it with the passata. Arrange the toppings on top of the passata, the sprinkle the grated cheese over the top.
Place the baking tray in the oven and cook the pitta pizza for approximately 5 minutes or until the cheese has melted.
Remove from the oven and enjoy on its own or serve it with a small green salad.
Nutritional Content Per Serving (Recipe Makes 1 Serving):
Energy: 1,447 KJ (346 kcal)**
Protein: 22g
Carbohydrates: 37g
Total Sugars: 6.5g
Total Fats: 10.6g
Saturated Fat: 5.6g
Fibre: 6.6g
Sodium: 960mg
** Does not include calories for an accompanying salad
Discover more low-calorie lunch recipes: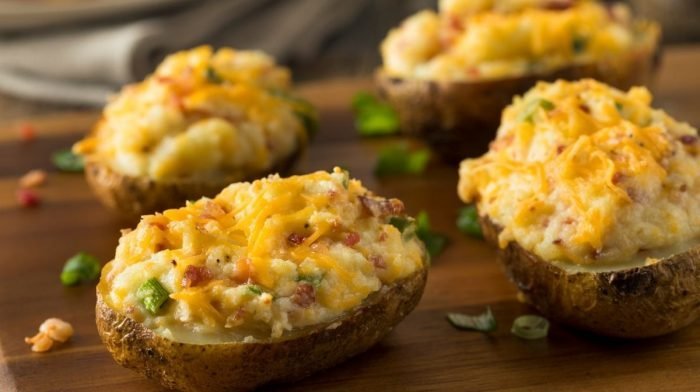 This stuffed baked potato recipe makes a great low-calorie comforting dinner.