This salad recipe is not just your ordinary lettuce and tomato salad – this salad uses slightly different ingredients that can be eaten warm or cold. It makes an ideal low-calorie lunch or dinner that feels wonderfully hearty, thanks to the couscous and roasted vegetables.
Pumpkin, courgette and couscous combine to create a salad that's full of flavour and texture and makes a really interesting low-calorie dish to support you on your weight loss journey.
Low-Calorie Pumpkin & Courgette Couscous Salad Recipe
Servings

2
Ingredients
150 g instant couscous
235 ml boiling water
500 g baby spinach leaves, washed and blotted dry
30 g pumpkin, peeled and diced into 1-inch cubes
30 g courgette, washed and cut into 1-inch thick slices
6 macadamia nuts, chopped
Juice of 1/2 lime
2 tsp balsamic vinegar
Low-calorie cooking spray
Method
Preheat the oven to 200°C.

Wash and slice the courgette and peel and dice the pumpkin into cubes. Spray a baking tray with low-calorie cooking oil and place the vegetables on it. Place in the oven and roast for 20-25 minutes, until softened and lightly browned. Remove from the oven and set aside to cool.

While the vegetables are roasting, add the dried couscous to a large bowl and carefully pour in the boiling water. Cover and leave to stand for 5 minutes.

Once the couscous has puffed up and absorbed all of the water, gently fluff with a fork and add the roasted vegetables and chopped macadamia nuts. Lightly stir to combine.

To make the dressing, combine the lime juice and balsamic vinegar in a small bowl, then add it to the couscous mixture and stir to mix through. Portion into two bowls and serve.
Nutritional Facts
Amount per serving
| | |
| --- | --- |
| Calories | 394 |
| Total Fat | 5.3g |
| Saturated Fat | 0.7g |
| Sodium | 19mg |
| Total Carbohydrates | 70g |
| Dietary Fiber | 6.5g |
| Sugar | 2.3g |
| Protein | 12.72g |
Allergens: contains wheat, nuts.
If you're looking for more unusual salad inspiration, try out this cauliflower tabbouleh salad: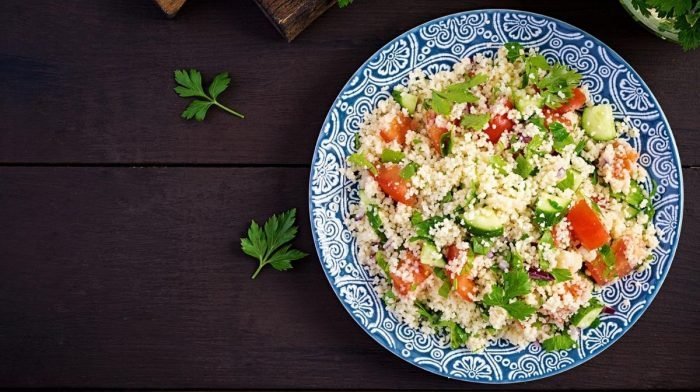 Try this tasty low-calorie recipe for an impressive cauliflower tabbouleh salad.