Mashed potatoes are wonderfully comforting at any time of year. This classic dish combines potato, sweet potato, and pumpkin for a lighter three-vegetable version mash, which is delicious alongside our low-calorie mushroom stroganoff for the ultimate winter warmer meal.
Low-Calorie Vegetable Mash Recipe
Servings

4
Ingredients
1 medium potato, washed, peeled and diced
150 g sweet potato, washed, peeled and diced
150 g pumpkin, washed, peeled and diced
Salt and pepper to taste
Method
Start by washing, peeling, and dicing the vegetables. Place the diced potatoes and pumpkin in a microwave-safe dish, cover, and microwave for 12 minutes.

Remove the bowl from the microwave and carefully drain any liquid, then pour the vegetables into a large bowl.

Mash the vegetables with a potato masher, then whip the potatoes and pumpkin with a spoon until you have a smooth texture.

Season to taste with salt and pepper.

Optional: you could turn the dish into garlic mash by adding a peeled clove of garlic to the microwavable dish, heating it along with the vegetables.
Nutritional Facts
Amount per serving
| | |
| --- | --- |
| Calories | 72 |
| Total Fat | 0.14g |
| Sodium | 6.4mg |
| Total Carbohydrates | 13.5g |
| Dietary Fiber | 2.3g |
| Sugar | 5.2g |
| Protein | 2.1g |
This low-calorie mash recipe would go wonderfully with a dish like these vegetable-stuffed mushrooms to make a hearty winter warmer dinner: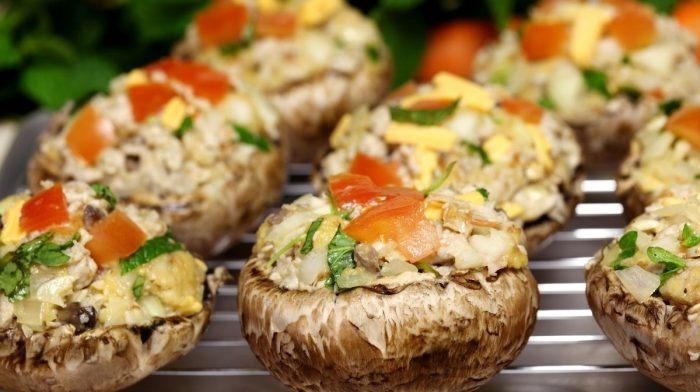 These vegetable-stuffed mushrooms make a great low-calorie light lunch option.