Yes, you can still enjoy a hearty risotto on a weight loss Maintenance Plan – you just need to make a few clever tweaks to the traditional recipe to keep the carbs and calories lower.
OPTIFAST's mushroom and asparagus risotto recipe uses low-calorie rice pearls instead of traditional rice, and it's packed with fresh vegetables. It also features chicken stock, so there's still a hint of that meaty flavour that many of us love from a risotto, but you can easily make this dish vegetarian by swapping it for vegetable stock.
Our risotto makes a great lunch or evening meal that will leave you feeling satisfied, while helping you to stay on track to your long-term goals.
Low-Calorie Mushroom & Asparagus Risotto Recipe
Servings

1 cup = 1 serving
Ingredients
1.5 tbsp olive oil
1 tsp finely chopped garlic
2 leeks, thoroughly washed, halved and sliced
3 spring onions, finely chopped
450 g Portabella mushrooms, halved and sliced
450 g white button mushrooms, sliced
450 g asparagus, cut into thirds
300 ml chicken stock
Fresh coriander
Freshly ground black pepper
1 packed No Calorie Noodles Rice Pearls, rinsed
Optional: soy sauce, sesame oil
Method
Remove the rice pearls from the packet, drain, rinse and set aside.

Wash the leeks – these can hold a lot of dirt, so make sure they are washed thoroughly before slicing, along with the spring onions.

Wash and slice the mushrooms and asparagus, and set aside.

Heat the oil in a pan and sauté the leeks, garlic and spring onions until softened.

Add the sliced asparagus to the pan, lightly sauté for 2-3 minutes then add the sliced mushrooms and sauté until softened.

Add seasoning to taste and cook for an additional two minutes.

Serve with the chopped fresh coriander, and your choice of soy sauce or sesame oil.
Nutritional Facts
Amount per serving
| | |
| --- | --- |
| Calories | 172 |
| Total Fat | 4.1g |
| Saturated Fat | 0.6g |
| Polyunsaturated Fat | 0.7g |
| Monounsaturated Fat | 2.4g |
| Sodium | 242.8mg |
| Total Carbohydrates | 19.2g |
| Dietary Fiber | 7.1g |
| Protein | 7.4g |
Allergens: if optional ingredients are used, contains soy, sesame. Chicken stock ingredients vary, may contain mustard.
Find more low-calorie dinner inspiration in our recipe collection: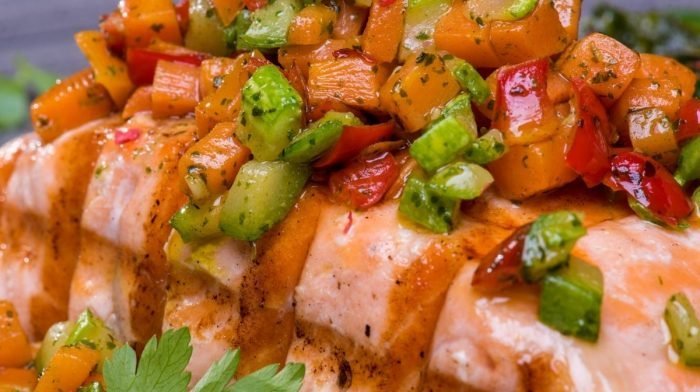 A tasty low-calorie recipe idea, featuring salmon, a good source of omega-3 fatty acids.