Bring the taste of summer holidays to your kitchen with this delicious, flavour-packed, Spanish-inspired vegetable rice recipe.
When you're following the OPTIFAST Intermittent Fasting or Partial Meal Replacement plan, you can enjoy some conventional foods alongside continuing to consume OPTIFAST meal replacement products.
We recommend creating low-calorie meals that are centred around lean protein and non-starchy vegetables. However, you can include some healthy carbs from time to time too.
This dish combines rice with vegetables, tinned tomatoes, olives, saffron and fresh herbs, creating a vibrantly coloured savoury burst of Mediterranean flavour. Enjoy this Spanish-inspired rice as a filling main course for lunch or dinner.
Low-Calorie Spanish-Inspired Rice Recipe
Servings

4
Ingredients
1 onion, peeled and finely chopped
1 red pepper, washed, deseeded and finely chopped
150 g mushrooms, washed and sliced
2 garlic cloves, peeled and crushed
2 tsp olive or vegetable oil
200 g long grain white rice
250 ml reduced salt chicken stock
400 g tinned chopped tomatoes
1/4 tsp saffron
10 pitted black olives
1 tbsp chopped parsley or basil
Method
Wash the pepper and mushrooms; deseed and finely chop the pepper and slice the mushrooms. Peel the onion and garlic, then finely chop the onion and crush the garlic.

Place a large frying pan over a medium heat and add the olive oil, onion and garlic. Sauté for 2-3 minutes or until the onion is softened and translucent – add a small amount of water if you need to prevent the garlic from burning.

Stir in the long grain rice and cook for 5 minutes. Then, add the stock, chopped tomatoes and saffron, and stir to combine.

Cover the pan with a lid, turn the temperature to low and leave to simmer for 20 minutes. Check and stir occasionally to ensure the rice is not sticking to the bottom of the pan.

When almost cooked through, add the sliced pepper and mushrooms, stir and leave to simmer for another 8-10 minutes, until almost all of the liquid is absorbed.

Remove the pan from the heat, stir in the olives and chopped herbs, divide into four portions and serve.
Nutritional Facts
Amount per serving
| | |
| --- | --- |
| Calories | 306 |
| Total Fat | 7g |
| Saturated Fat | 1g |
| Sodium | 887mg |
| Total Carbohydrates | 51g |
| Dietary Fiber | 4g |
| Sugar | 7.5g |
| Protein | 7g |
Allergens: vegetable stock ingredients will vary, may contain celery.
Discover more delicious low-calorie recipe ideas in our extensive recipes collection: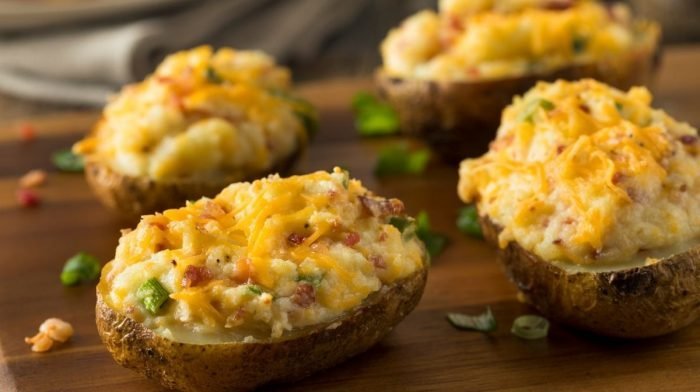 This stuffed baked potato recipe makes a great low-calorie comforting dinner.