Barbecue season doesn't have to be off limits when you're following a weight loss plan. You may need to pass on some of the favourites like beef burgers and sausages in bread rolls, but you can still enjoy a variety of low-calorie side dishes and some tasty barbecued vegetable dishes, like these delicious vegetable kebabs.
Skewers threaded with chunks of red onion, colourful peppers, mushrooms, courgettes, aubergine and juicy cherry tomatoes, coated in a garlic and balsamic dressing are bursting with vibrant colour and delicious flavour.
Enjoy barbecue season while staying on track with your Intermittent Fasting or Partial Meal Replacement Plan with these mouth-watering BBQ kebabs.
Low-Calorie BBQ Vegetable Kebabs Recipe
Servings

4
Ingredients
8 wooden skewers, soaked (to prevent burning)
1 red onion, peeled and sliced into quarters
1 garlic clove, peeled and crushed
1 red pepper, washed and sliced into chunks
1 green pepper, washed and sliced into chunks
8 button mushrooms, washed
1 courgette, washed and sliced into rounds
1 small aubergine, washed and chopped into 2.5cm pieces
200 g cherry tomatoes, gently washed
2 tbsp balsamic fat-free salad dressing
2 tbsp olive oil
Method
Fill a large bowl with cold water and soak the wooden skewers in it while you prepare the vegetables.

Wash, peel and prepare the garlic, onion, peppers, mushrooms, courgette, aubergine and tomatoes as directed.

In a small bowl, mix the salad dressing with the crushed garlic and olive oil, and set aside.

Remove the skewers from the bowl of water, shake off any excess water and begin to thread the vegetables onto each one. Aim to have at least one piece of each vegetable on each skewer.

Place all the skewers on a baking sheet and, using a pastry brush, evenly coat them with the garlic-infused dressing you made earlier.

Transfer the skewers on to a barbecue grill or griddle pan and cook them for approximately 10 minutes, turning them 1-2 times during cooking. Halfway through their cooking time, brush the vegetables with any remaining dressing, then allow them to finish cooking until lightly browned and the vegetables have softened.

Carefully remove the skewers from the grill and allow to cool slightly before eating.
Nutritional Facts
Amount per serving
| | |
| --- | --- |
| Calories | 74 |
| Total Fat | 2.7g |
| Saturated Fat | 0.3g |
| Sodium | 96mg |
| Total Carbohydrates | 6.8g |
| Dietary Fiber | 4.5g |
| Protein | 3.3g |
Allergens: may contain mustard (balsamic fat-free salad dressing).
Discover more healthy BBQ tips here: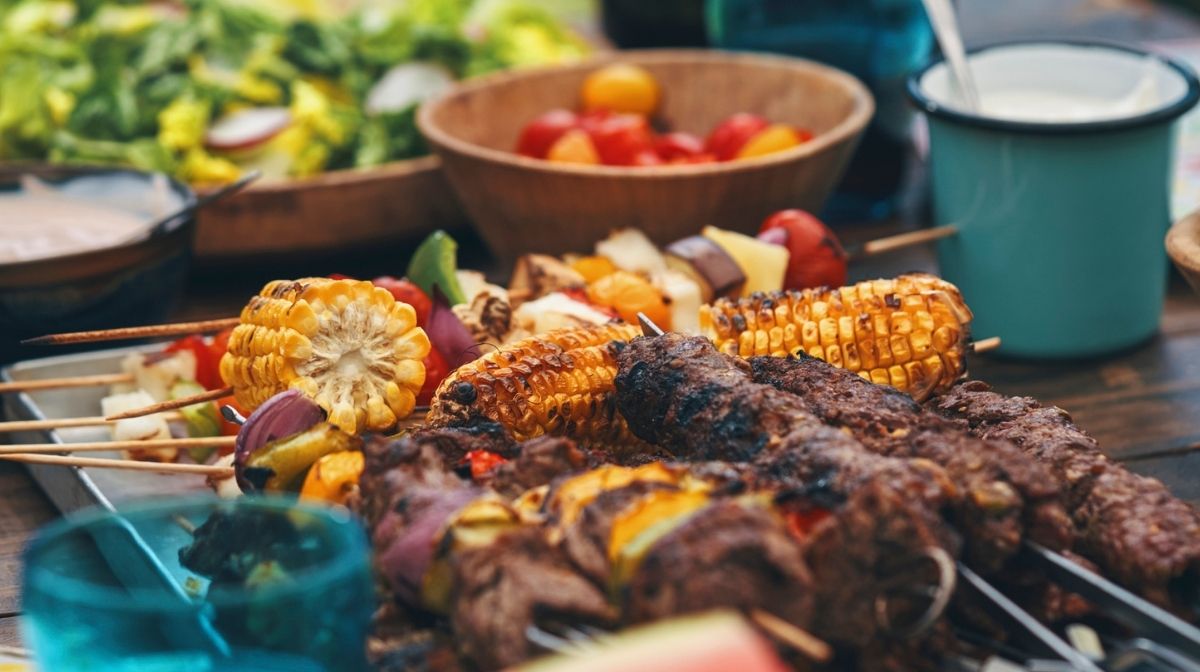 Check out these healthy BBQ swap ideas to support your weight loss journey.