Looking for a salsa recipe to serve at your next summer party or BBQ that's a little bit different to the standard tomato-based dip, but still fits with your weight loss plan? This mixed bean and pineapple salsa could be exactly what you've been waiting for.
Providing protein and fibre from a variety of beans, as well as plenty of nutrients from the colourful fresh fruit and vegetables, including green beans, red peppers and vibrant pineapple, this salsa is packed with flavour and texture.
Pile it into lettuce wraps or enjoy as a side dish with some lean grilled fish for a low-calorie main meal when you're following one of our Intermittent Fasting or Partial Meal Replacement Plans.
Low-Calorie Mixed Bean & Pineapple Salsa Recipe
Servings

6
Ingredients
310 g tinned kidney beans, drained and rinsed
310 g tinned mixed beans, drained and rinsed
310 g tinned soybeans, drained and rinsed
300 g fresh green beans, rinsed and sliced into 1-inch pieces
440 g tinned pineapple chunks, drained (but keep the juice for another part of the recipe)
1 onion, peeled and thinly sliced
2 red peppers, washed and thinly sliced
2 tbsp unsaturated vegetable oil
2 tbsp pineapple juice (from the drained juice)
2 tsp sugar
Garlic salt to taste
Method
Begin by preparing the green beans. Rinse them in cold water, blot dry and slice into 1-inch pieces. Place the sliced beans in a saucepan over a medium-high heat and fill the pan with water, leaving about ¼-inch from the top of the beans.

Cover with a lid and leave to steam for 5-7 minutes or until most of the water has evaporated. Remove from the heat, drain any excess water and leave the green beans to one side.

While the beans are steaming, peel and slice the onion, wash and slice the peppers, and separate the pineapple chunks from their juice. Set aside.

Drain and rinse the kidney beans, mixed beans, and soybeans, then combine together in a large mixing bowl. Stir in the cooked green beans, pineapple chunks, sliced onion, and red pepper.

In a small bowl, mix together the oil, pineapple juice, sugar, and garlic salt, then add it to the bean mixture and stir to combine. Place the large mixing bowl in the fridge for at least one hour to allow the flavours to blend together.

Remove from the fridge and divide into six servings. Enjoy!
Nutritional Facts
Amount per serving
| | |
| --- | --- |
| Calories | 312 |
| Total Fat | 11.01g |
| Saturated Fat | 1.7g |
| Sodium | 603.2mg |
| Total Carbohydrates | 30.3g |
| Dietary Fiber | 14.6g |
| Protein | 16.5g |
Allergens: contains soy
Check out another low-calorie side dish recipe here: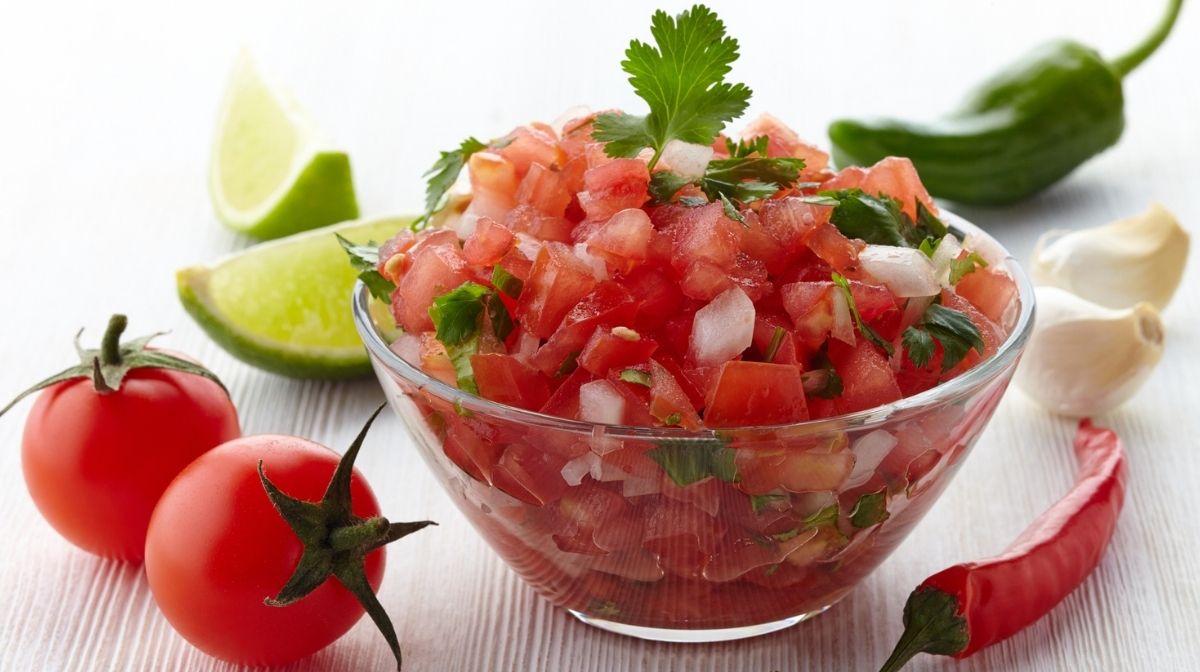 Try this low-calorie BBQ side dish to bring extra flavour to your al fresco dining.