Lettuce cups or lettuce wraps are great low-carb alternatives to tortilla wraps. They're perfect for your favourite taco filling or even a stir-fry, like in this Vietnamese-inspired chicken recipe.
This Vietnamese chicken lettuce cups recipe makes a delicious meal that the whole family will enjoy. It's quick and easy to make and incredibly versatile, meaning it doesn't always have to be eaten with lettuce cups – it can be eaten as a noodle stir fry or as Asian-inspired tortilla wraps for anyone who doesn't want the low-carb alternative. This way, everyone is happy, making it easier for you to stay on track with your Intermittent Fasting or Partial Meal Replacement plan.
This recipe combines lean protein with mouthwatering spices and fresh vegetables, creating a dish that's packed with flavour and texture.
Low-Calorie Vietnamese Chicken Lettuce Cups Recipe
Servings

4
Ingredients
400 g chicken, trimmed and finely chopped or minced
2 garlic cloves, peeled and crushed
1 cm piece of ginger, grated
1/2 tsp Chinese five spice blend
2 tbsp hoisin sauce (reduced salt, if available)
2 tbsp reduced salt soy sauce
2 red jalapeno chillies, washed, deseeded and finely chopped (be careful not to touch your eyes after chopping!)
4 large lettuce leaves, washed and gently dried
1 tbsp unseasoned rice vinegar
100 g cucumber, washed and sliced into ribbons
100 g carrot, washed, peeled and sliced into ribbons
Method
Wash the chillies, lettuce leaves, cucumber and carrot, using a kitchen towel to blot any excess water. Set the lettuce leaves to one side while you deseed and finely chop the chillies; peel and slice the cucumber and carrot into ribbons, grate the ginger, and peel and crush the garlic.

To make the topping for your lettuce cups, in a small bowl, combine the sliced cucumber, carrot strips and rice vinegar and set aside.

Place a non-stick pan over a medium heat and add the minced chicken, grated ginger, crushed garlic, five spice powder, hoisin sauce and soy sauce. Stir the chicken so it's well coated with all of the seasonings.

Then, stir-fry the chicken for 7-10 minutes or until cooked through. Remove the pan from the heat and allow to cool for 5 minutes.

Arrange the lettuce leaves in 4 bowls. Spoon one-quarter of the chicken mixture into the centre of each lettuce leaf and garnish with the cucumber and carrot mixture. If you're using the jalapenos, sprinkle them over each cup and serve.

To make a wrap instead of a cup, add the mince mixture to the middle of a large lettuce leaf and roll closed.
Nutritional Facts
Amount per serving
| | |
| --- | --- |
| Calories | 193 |
| Total Fat | 8.8g |
| Saturated Fat | 2.6g |
| Sodium | 954mg |
| Total Carbohydrates | 6.5g |
| Dietary Fiber | 3.2g |
| Sugar | 5.8g |
| Protein | 20.6g |
Allergens: contains soy, sesame.
Find more low-calorie main course inspiration here: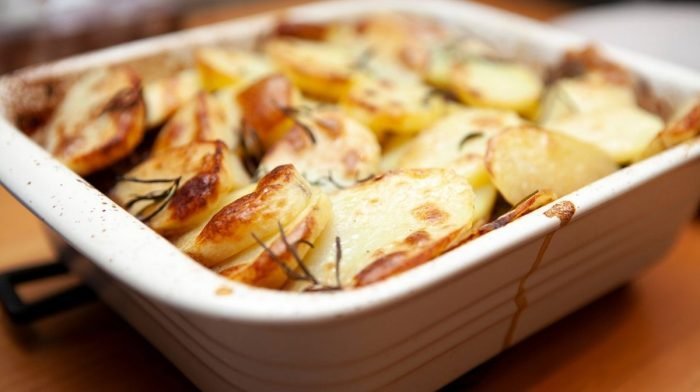 Hot pot gets a makeover in this low-calorie recipe.