These sweet chilli fish cakes make a delicious light lunch or low-calorie dinner idea.
With fresh coriander, zingy lemon, peppery sweet ginger, and fiery sweet chilli sauce, these homemade fish cakes are packed with flavour and they're also wonderfully filling thanks to the potato and protein-rich tuna they contain.
If you're looking for a low-calorie side dish to serve these with, try our fresh tomato salsa recipe or our flavour-packed cauliflower tabbouleh salad.
Low-Calorie Sweet Chilli Fish Cakes Recipe
Servings

4
Ingredients
3 medium-sized potatoes, peeled and diced
75 g Thai sweet chilli sauce
1 tsp fish sauce
425 g tuna in spring water, drained
1 tsp lemon zest
1 tsp ginger, grated
5 g coriander, chopped
40 g dried breadcrumbs
1 celery stick, finely chopped
1 egg, lightly beaten
2 tbsp olive oil
Method
Wash, peel and dice the potatoes, place them in a medium-sized pan of water, bring to a boil over a high heat and cook for 10-15 minutes, or until soft and cooked through.

Remove the potatoes from the heat, drain, place into a large mixing bowl and mash. Then, pour them into a large mixing bowl.

Add the grated ginger and lemon zest and the drained tuna into the bowl of potatoes and stir until well-mixed.

Wash and chop the celery and coriander and add to the bowl. Lastly, mix in the sweet chilli sauce, fish sauce and egg.

Mix until well-combined, divide the mixture into four, and with slightly damp hands, shape each portion into four evenly sized patties.

Over a medium heat, add and heat the olive oil in a griddle pan; carefully place the fish cakes into the pan and fry for 4-5 minutes on each side until golden brown.

Serve with salad leaves, extra sweet chilli sauce and lemon wedges.
Nutritional Facts
Amount per serving
| | |
| --- | --- |
| Calories | 350 |
| Total Fat | 13.5g |
| Saturated Fat | 2.8g |
| Sodium | 787.5mg |
| Total Carbohydrates | 25.1g |
| Dietary Fiber | 2.22g |
| Sugar | 8.9g |
| Protein | 30.6g |
Allergens: contains fish, egg, celery, wheat.
Try another low-calorie fish recipe with this spiced salmon and raita dish: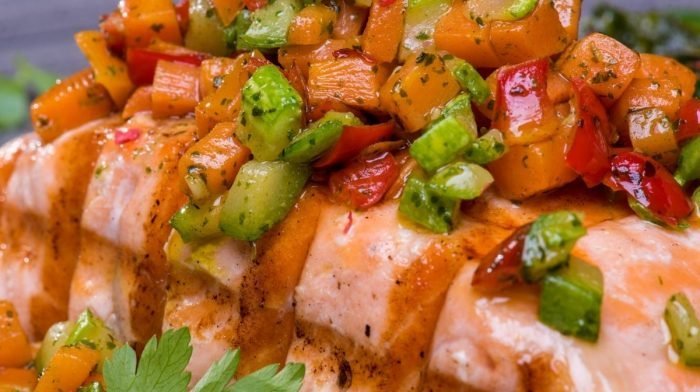 A tasty low-calorie recipe idea, featuring salmon, a good source of omega-3 fatty acids.